---
FUSE Selection GUIDE
About ETI
Since 1950, ETI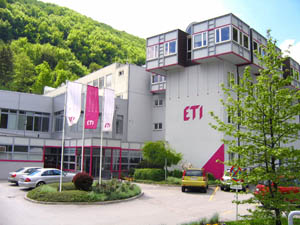 has grown into a world's leading provider of products and services in the field of electrical installations, manufacturer of technical ceramic products, tools and equipment, and plastic and technical rubber products. ETI aims to achieve customer satisfaction and corresponding business excellence through quality of products and services.

All our products are internationally certified and has been awarded many quality symbols.   

ETI has grown substantially with its strategic subsidiaries in Slovenia and abroad, in cooperation with selected strategic partners. ETI products are sold in more than 60 countries all over the world. A lot is invested into research & development. Slovenian's first enterprise to be ISO 9001 and ISO 14001 certified.
ETI's succees in creating an internationally competitive, development-oriented, and stable business group has withstood the extreme pressures of competition and recession. ETI continues to build high-quality products and services, strengthening flexibility and competitiveness, and invest profits into knowledge, marketing and technological development. 
About Us
As one of the nation's premier specialty fuse distributors our goal is to provide you access to expert technical support and an extensive inventory of fuses, backed by our guarantee of selling only new factory warranty fuses.
With our 24 Hour Service, same day shipments, expert support...why settle for less?
 
Please slecect from the catagory below:
Electrotechnical products
Building and industry

DO :       Low voltage fuse-links D0
             Fuse-bases
             Fuse-disconnection units
             Accessories for fuses
             Technical data

C  :         Cylindrical fuse-links
              Fuse disconnectors for cylindrical fuse-links
              Technical data

NV/NH :  Low voltage NH knife-blade fuse-links

              Fuse bases
              Accessories
              Low voltage fuse-rails
              Strip type fuse-switch-disconnectors
              NV disconnectors with fuses
              Universal earthing and short circuiting device
              Technical data

Energy
NV/NH :  Low voltage NH knife-blade fuse-links
              Fuse bases
              Low voltage fuse-rails
              Strip type fuse-switch-disconnectors
              Disconnectors with fuses
              Technical data
              Universal earthing and short circuiting device
              Accessories


VV

     High voltage fuse-links
     Technical data

Semiconductors protection and Special Purpose fuses